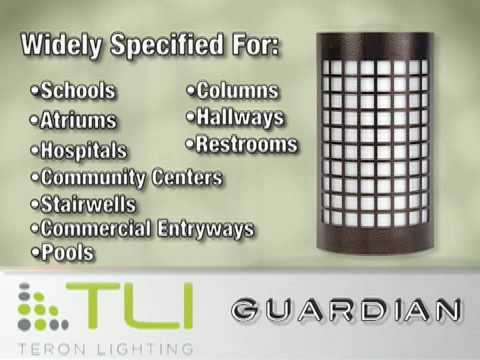 Introducing the Guardian, engineered by TLI, a leading national "green" American made manufacturer of lighting fixtures.
The Guardian is a cost efficient, ADA, vandal-resistant wet location fixture for vertical or horizontal mounting, The fixture is available in 16", 2, 3 and 4 foot sizes with more than twenty two different standard fascias from which to choose. TLI can also provide custom designs and logos for all size shields giving your customers the ability for rapid customization in a cost effective manner. The Guardian provides flexibility, aesthetic appeal, and effortless electrical installation, and maintenance.
The Guardian is widely specified for schools, atriums, hospitals, community centers, stairwells, commercial entryways, around outdoor or indoor pools, mounting on columns, hallways, public restrooms, or any areas requiring a durable energy efficient solution with visual aesthetic appeal.
The construction of each vandal resistant Guardian Luminaire consists of an aluminum extruded housing, aluminum fascia and die cast aluminum end caps. The Guardian also features a high impact DR Acrylic diffuser. TLI's in house powder coating allows you to choose from fourteen stock colors and the full range of RAL selection. The Guardian can be specified with an integral emergency battery for the 3 and 4 foot fixtures, motion sensor, and a conduit entry.
Guardian fixtures incorporate CFL, T8, and T5 lamping options, with LED soon to be available.
Matching interior lighting is also available with the Guardian Indoor series.
The Guardian series complies with the ARRA American Recovery ACT and with the Buy America Act.
Introducing the Guardian, engineered by TLI, a leading national "green" American made manufacturer of lighting fixtures.
The Guardian is a cost efficient, ADA, vandal-resistant wet location fixture for vertical or horizontal mounting, The fixture is available in 16", 2, 3 and 4 foot sizes with more than twenty two different standard fascias from which to choose. TLI can also provide custom designs and logos for all size shields giving your customers the ability for rapid customization in a cost effective manner. The Guardian provides flexibility, aesthetic appeal, and effortless electrical installation, and maintenance.
The Guardian is widely specified for schools,… » Read more